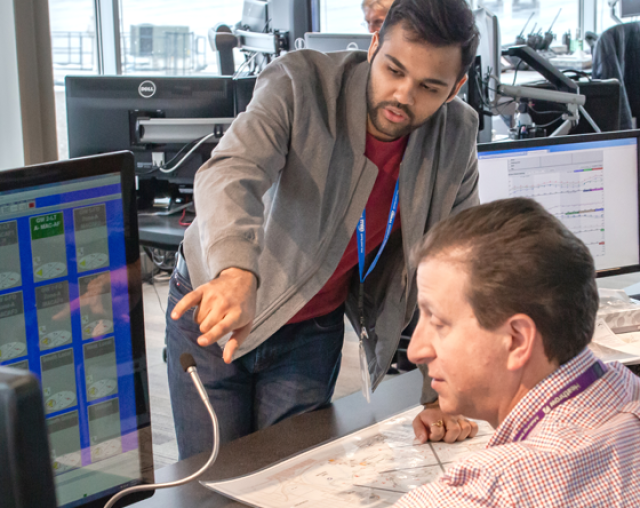 Your health. Your time. Your future. Great pay is only the beginning.
We prioritize the wellbeing of our employees and proudly provide extensive benefits to meet your needs now and in the future.

Our benefits include an attractive and competitive salary, robust health and dental plans, generous paid vacation, and a variety of retirement savings plans, along with additional perks to enhance your life.
Your Health
Medical & Prescription
• Comprehensive medical insurance through Blue Cross and Blue Shield of Minnesota (Aware Network) that includes prescription coverage; choose between a traditional plan or a High Deductible Health Plan (HDHP) paired with a Health Savings Account (HSA).
• Single and dependent coverage available
• The HSA employer contribution is equal to 50% of the single or family out-of-pocket-maximum depending on the selected coverage level
• Coverage begins 30 days from date of hire
• NICE Healthcare – Access to an array of primary care services (i.e., routine physicals and access to more than 550 prescription medications): a convenient, cost-effective option for various health care needs
Dental Plans
• Comprehensive dental insurance through Delta Dental (PPO or Premier Delta Network) with 100% coverage for preventative care and 80% for basic and major restorative services
• Single and dependent coverage available
• Coverage begins 30 days from date of hire
Vision Plans
• Comprehensive glasses or contacts coverage provided by EyeMed (Select Network)
• Single and family coverage available
• Coverage begins 30 days from date of hire
• No additional cost when enrolled in a medical plan
Wellness Support
• Health coaching – Available to both you and your spouse
• Award-winning Live Well, Stay Well program – Financial incentives to complete preventative care, participate in quarterly challenges, and exercise each month; spouse eligible to participate in some incentives
Flexible Spending Account
• Option of setting aside pre-tax earnings for eligible medical expenses and day care costs
Your Time
Paid Time Off
• Vacation – Full-time employees start at 15 days per year, with the possibility of starting with more days per year depending on relevant prior experience. Part-time employees recieve prorated vacation based on hours worked.
• Sick leave – Full-time employees accrue sick leave at a rate of 7.33 hours per month. Part-time employees generally receive prorated sick leave accrual based on hours worked.
• Holidays – MAC recognizes 13 holidays: New Year's Day, Martin Luther King Day, Presidents Day, Memorial Day, Juneteenth, Independence Day, Labor Day, Veterans Day, Thanksgiving Day, Friday after Thanksgiving Day, Christmas Day and two floating holidays of your choice.
Paid Leaves
• Maternity and parental – Six weeks paid leave for the birth or adoption of your child
• Bereavement
Hybrid Workplace
• Remote work up to two days per week available for select positions; must be onsite four days per week for the first two months
Your Future
Income Protection
Employer-provided
• Long-term disability – Covers up to 60% of your base salary after three months
Voluntary
• Short-term disability – Policy pays up to 60% of your base salary for up to three months, safeguarding your income should you experience a prolonged sickness or injury
Retirement
• Pension plan – Per state law, enrollment in Minnesota's Public Employees Retirement (PERA) pension fund; fully vested upon reaching three years of service. Vested employees are entitled to a lifetime retirement benefit paid monthly.
• Deferred Compensation 457(b) plan - Option of deferring a portion of your salary to supplement your future retirement income; contributions can be made on a pre-tax or post-tax (Roth) basis
Survivor Benefits
Employer-Provided
• Basic life insurance – Term life and accidental death and dismemberment (AD&D) coverage equivalent to annual base salary
Voluntary
• Supplemental life insurance – Option of adding life insurance policies for you, your spouse and your dependent children
• Supplemental AD&D insurance – Option of adding AD&D coverage for yourself and your family
Health Care Savings Plan (HCSP)
• Save pre-tax money to pay post-employment medical expenses and/or health insurance premiums
Public Student Loan Forgiveness Program
• Possible forgiveness of your remaining student loan balance after making 120 qualifying payments
And More
Additional benefits
• Professional development opportunities
• Free parking at the appropriate facility or location during your normal work hours and in the performance of your job
• Identity protection services - Credit reports and monitoring, identity repair and identity theft insurance are accessible for employees and their covered dependents on the medical plan; offered through Experian
• Free counseling and referral services for day-to-day concerns as well as challenges that may impact your health and work performance
Current opportunities at the MAC
Visit our careers page to view the current opportunities at the MAC.
Please note that union-represented positions may have slightly different provisions. Candidates are encouraged to review the applicable collective bargaining agreement for specifics.