In 2022, the Metropolitan Airports Commission (MAC) marked the 60th anniversary of Minneapolis-St. Paul International Airport's (MSP) Terminal 1. The original building, with its open plan, long-span concrete shell and signature folded plate ("wavy") roof, was heralded in 1962 as a landmark event that would modernize the travel experience.  
Originally designed to accommodate 1.8 million passengers annually, Terminal 1 has undergone numerous renovations and additions over the past six decades. The building has grown by more than 2.4 million square feet and now accommodates tens of millions of passengers annually.   
The terminal's transformation continues, including several enhancements to this iconic building in 2022.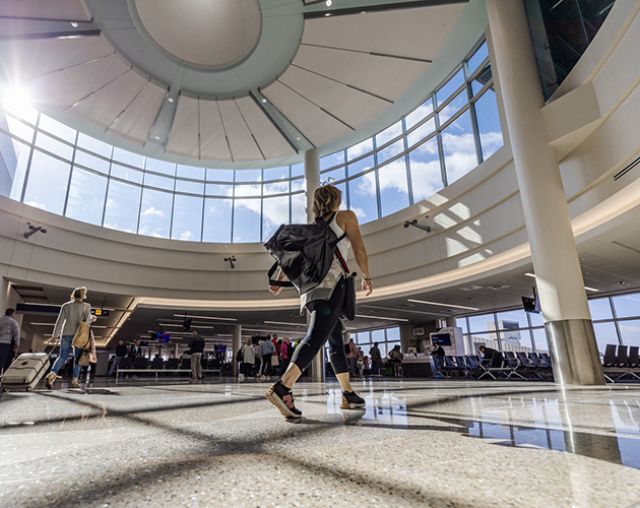 Concourse G Improvements 
In May 2022, the beautifully remodeled and expanded space between Gates G17 and G22 opened to the public, offering passengers spacious, light-filled corridors, expanded gate seating and restrooms, and a new nursing mother's room.  
Among other amenities, more than 500 square feet of public art space was designed into the project, including: 
The art glass mosaics that can be viewed from both inside and outside the two new restrooms. 
A 16-case art gallery that houses rotating temporary exhibitions curated by the airport's Arts@MSP program. 
Infrastructure to install a large, suspended artwork in  2024 from the ceiling of a new two-story rotunda.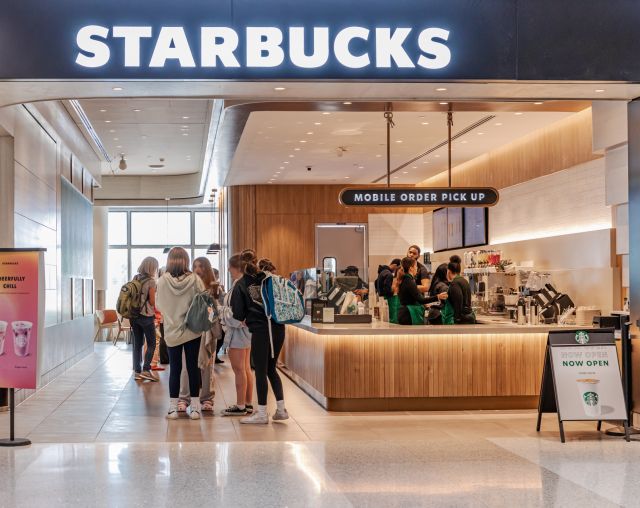 Passengers are also enjoying new dining options offered in this area, including:
Starbucks coffee with expansive views of the airfield. 
Poppy's Bagels, with healthy options, that transforms every day at 10:30 a.m. into Custom Burgers for lunch and dinner.  
Cibo Express Gourmet Market. 
And a new local concept – Crisp & Green, which opened its first street-side location in Minnesota in 2016.    
To top it off, Delta Air Lines will open its luxurious new Sky Club in April 2023 – its third at MSP. Situated on the concourse's second level overlooking the rotunda and airfield, the club will be a welcome addition, as Delta's two existing Sky Clubs are very popular with MSP passengers. 
Departures and Arrivals Get a Makeover 
Renovation of MSP's Terminal 1 Departures and Arrivals levels began in 2015 as part of a multi-year project to expand and modernize these spaces to accommodate future passenger growth. The project was programmed in stages to accommodate passenger flow during the project. In 2022, work continued on both levels and included the addition of an adult changing table in one of the new restrooms on the Arrivals level. The project is expected to be completed in 2025.  
A Sustainable Foundation 
Airports don't typically choose to renovate 60-year-old terminals. But it was important to the MAC from both an operational and sustainability standpoint to reuse Terminal 1's original building shell. This key decision will extend the building's life another 50-plus years, an astonishing feat and the most sustainable decision the MAC could have made when evaluating how to update the airport's facilities.  
Take a look back at how far we've come...
2016
Security Checkpoints
Construction of what would become the North Security Checkpoint began in 2015. Opening in 2016 with 10 lanes the checkpoint now accommodates tens of thousands of people every day. The MAC also designed the space to be as flexible as possible for any future changes to security protocols. 
2017-18
Elevators and Escalators
The inefficient and view-blocking "scissor" escalators have been dismantled and replaced with a set of four, centrally located elevators and a set of escalators on either end of the departures hall.
2019
Checking in
The experience of checking in for a flight changed significantly over the past 8 years. Today Terminal 1 has dozens of self-service check-in kiosks for Delta and its partners, as well as for all other airlines at MSP. 
2020
Public Art
The Aurora by Jen Lewin is a 29-foot-high glass and metal sculpture that is suspended through an oval opening between the Departures and Arrivals levels. It's a twisting aerial wave of more than 20,000 aluminum rings that house over 1,900 hand-blown glass bulbs, each with a set of LEDs within. The sculpture was hoisted into place in the fall of 2020 with the final phases of the installation occurring in March 2021.
2021
Arrivals and Baggage Claim
The Arrivals level, inside and out, has been completely transformed. Outside you'll find brighter lighting and the addition of a new contained smoking area and an animal relief area. Inside the small round baggage carousels of yesteryear have been replaced. The new larger, oval carousels feature shimmering lights that mimic sunlight upon water and play nature sounds when your bags are about to arrive. 
2022
A New Facade
An additional 16 feet has been added to the original 1962 facade on both the Arrivals and Departures levels by bumping out the front wall toward the roadway. The once "wavy" roof is now replaced with a sleek glass and steel facade featuring sage glass that keeps the temperatures inside warmer in the colder months and cooler in the hotter months.
Dining and Shopping for a New Generation 
It's not unusual for passengers to arrive early at MSP to treat themselves to a special meal or snack or indulge in a pre-trip purchase. In 2022, MSP introduced several new concepts that have found their own following. Check them out below.                                                          
Legends of the North offers a variety of items from Minnesota's sports, music and entertainment industries, including ball caps, regionally sourced food items and sportswear. Airport Mall 
Settebello is one of the first pizzerias in the United States to master Pizza Napoletana as it has been made in Italy for centuries from artisan recipes. Salads and charcuterie boards are also offered. Airport Mall
The Greek Kitchen offers travelers authentic Greek cuisine including gyros, falafel and rotisserie chicken on a plate or in a pita. Concourse A
SkyConnect stocks the latest mobile phone accessories, portable speakers, travel chargers and batteries for all your devices to keep you connected. Concourse F
The North Mercantile offers a variety of gifts including jewelry, handbags and memorabilia tied to Minnesota entertainment icons. Concourse G
Poppy's Bagels helps start your morning on the tasty side with a selection of breakfast sandwiches, bagels and pastries. Concourse G
Crisp & Green is locally grown and locally loved and offers the best in delicious, healthy, convenient food. Concourse G
Sebastian Joe's, a Twin Cities favorite since 1984, now offers its cool and creamy ice cream confections at MSP. Stop by for your favorite flavor in a cone, cup or ice cream sandwich. Concourse E
Wild & Sweet has all the sweet treats and savory snacks for your journey. Concourse F
Hjem+Home (pronounced "yem") offers Scandinavian and Minnesota-themed gifts, including lounge wear, candles and greeting cards. Concourse C
Previous
Next
Demo slide 2

Demo slide 3
And much to everyone's delight, there is now a Caribou Coffee shop on the Arrivals level at Terminal 1, which opened in December, just in time for the cold weather months.