Connecting with people across Minnesota and those who live near the Metropolitan Airports Commission's (MAC) airports is a priority for the organization. It is also integral to the MAC's purpose: to provide exceptional airport experiences so Minnesota thrives.  
The MAC connects with and supports both its airport and off-airport communities through a variety of means, including educational and public engagement opportunities.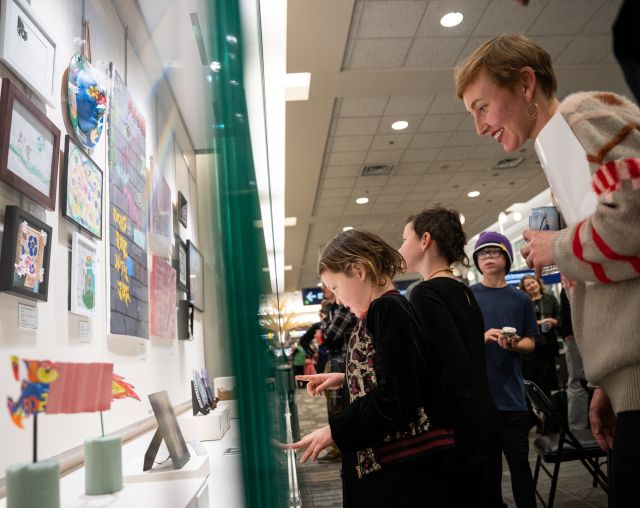 Arts@MSP
The MAC continued its 40-year partnership with the Airport Foundation MSP in 2022, including its arts and culture program. Every year this program brings nearly 1,000 musical performances and hundreds of local and regional artworks to Minneapolis-St. Paul International (MSP) Airport.
One such exhibit is the popular annual MSP Creates: The Airport Community Art Show, which, in 2022, featured 165 artworks created by 127 airport employees or their family members. The exhibit is made possible by the National Arts Program and is celebrated as one of the many ways MSP's community members engage with each other and travelers. 
Learn More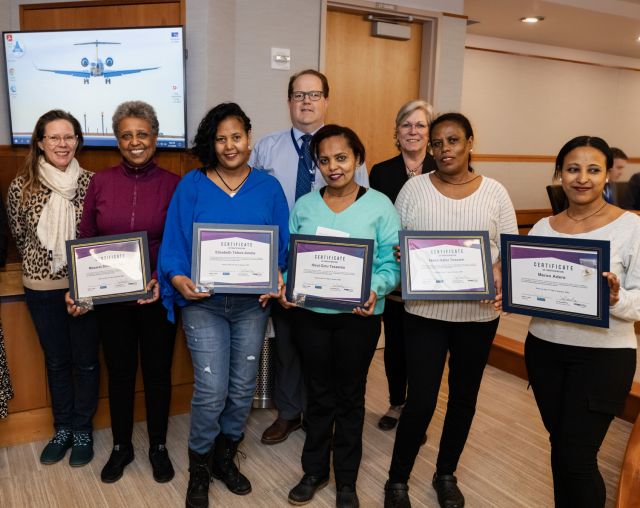 Workforce English
Another MAC-sponsored airport community outreach program is MSP's Workforce English classes, which resumed in 2022 after a three-year hiatus due to the COVID-19 pandemic. This free program helps airport employees – many of whom are recent immigrants to the United States – learn English to become more confident in their interactions with customers, communicate effectively with their managers and expand their opportunities for career growth. The classes also provide instruction on basic computer skills.  
The program is taught onsite and virtually through St. Paul Public Schools' Adult Basic Education Hubbs Center for Lifelong Learning. Volunteers from the Airport Foundation MSP serve as teaching assistants.  
On January 17, 2023, 14 students from the class of 2022 celebrated their graduation.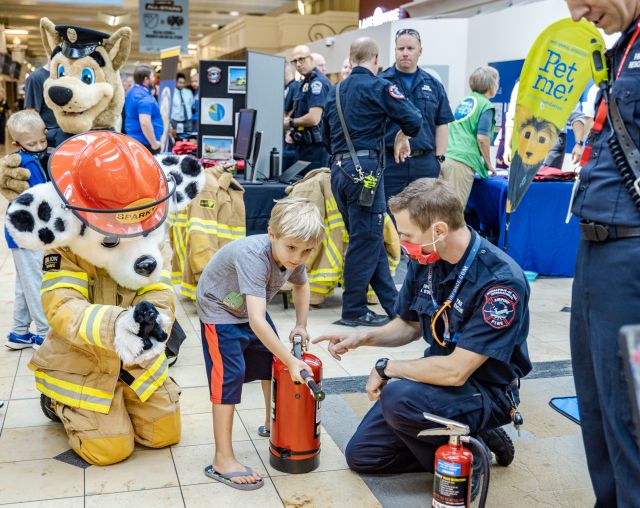 MSP Airport Fire and Police in the Community
Fire and police departments across the United States have a long history of engagement in their communities. The MSP Airport Fire and Police departments are no exception.  
Both departments participated in a variety of events in 2022, including Air Expo, Girls in Aviation Day, Experience MSP and Nite to Unite.  
The police department also:
Regularly hosts Coffee with a Cop events at MSP Airport where they interact with airport employees and travelers. The national program aims to bring police officers and members of the public together through informal discussions in a casual atmosphere.  
 
Engaged with residents and tenants who attended the Discover Flying Cloud event in October in Eden Prairie. 
 
Participated in numerous opportunities to honor United States service people through the department's Honor Guard program, including the Peace Officers Memorial Day program at Minnesota's state capitol grounds.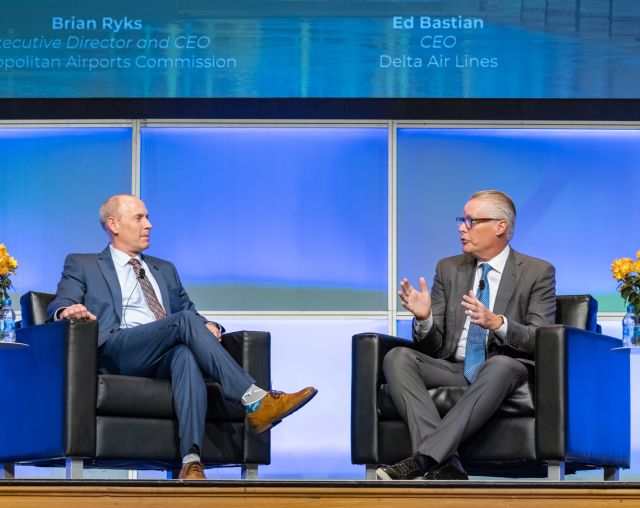 MSP Airport Welcomes Thousands of Visitors
MSP Airport is an integral part of Minnesota and its Twin Cities' community. That's why every year the MAC works closely with destination marketing organizations, chambers of commerce, the business community and nonprofit organizations to ensure visitors to the region are warmly welcomed from the moment they step into MSP's terminals. 
In 2022, the MAC was honored and thrilled to participate in several national events, including co-hosting with Meet Minneapolis, the Airports Council International – North America Annual Conference in September. The event brought more than 2,000 airport and aviation professionals to the Twin Cities region. Delta Air Lines' CEO Ed Bastian keynoted the second day in a fireside chat with MAC CEO Brian Ryks.
The NCAA Women's Basketball Tournament in March was another 2022 highlight – thousands of fans traveled through MSP on their way to watch teams compete for the national title.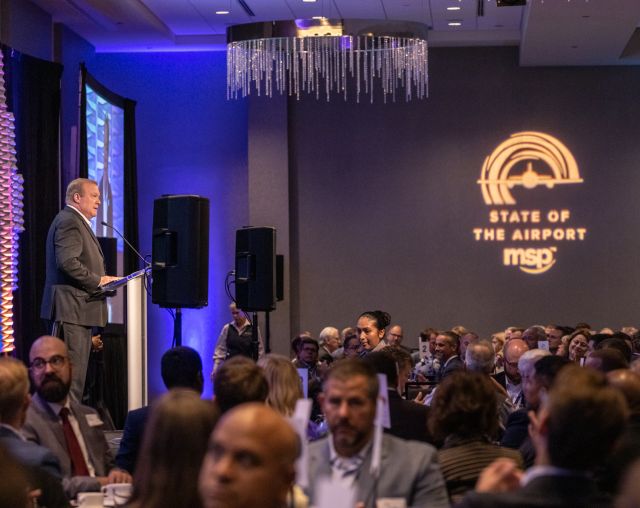 MSP State of the Airport Annual Luncheon 
The MAC and the Airport Foundation MSP co-host an annual State of the Airport luncheon, which took place in 2022 on Sept. 30 after a two-year hiatus due to the COVID-19 pandemic. The event offers an opportunity for the MAC to take a look back while also sharing upcoming initiatives with the community and helps promote the tremendous value MSP Airport brings to the region. This year's luncheon featured a message from Minnesota Governor Tim Walz and a keynote presentation by Sun Country Airlines CEO Jude Bricker.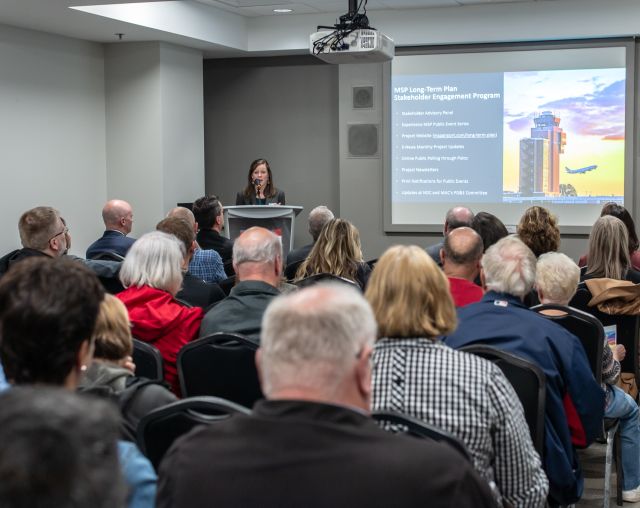 MSP Airport Long-Term Planning
Speaking of looking forward, progress on the MSP Airport 2040 Long-Term Plan continued in 2022 after a pause in 2020 and 2021 due to the COVID-19 pandemic. In 2022, the MAC held two public events – one virtually in April and one in-person in August – for the public to learn more about how the MAC is planning for MSP's future and addressing the needs of local and global travelers. The public process is expected to wrap up in the second quarter of 2023.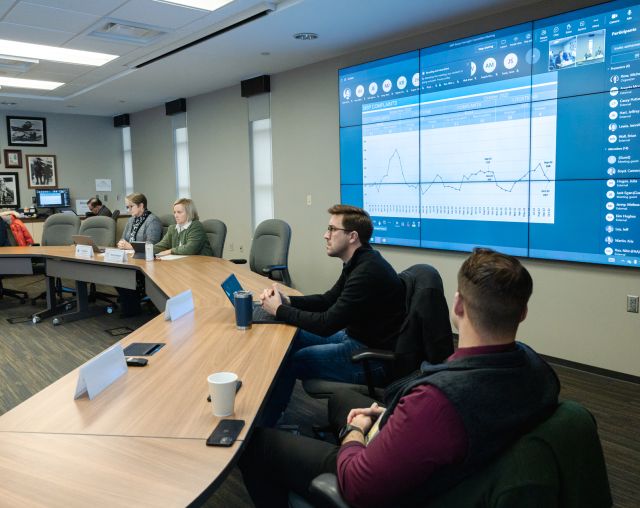 MSP Noise Oversight Committee Marks 20 Years of Collaboration
Ensuring opportunities for the public to learn about and comment on airport operations topics is deeply important to the MAC. Several channels are available for the public to provide their input and connect with airport staff, online, in person and by phone. 
One channel is the MSP Noise Oversight Committee, which was established 20 years ago to address aircraft noise issues associated with MSP Airport. Made up of equal numbers of industry and community members, this groundbreaking MAC advisory group meets every other month and boasts a long list of accomplishments every year, including supporting the MAC's 2022 recommendation to extend the duration of its noise mitigation program through the year 2032.  
In 2022, the committee held four public listening sessions to discuss topics such as the noise mitigation program, ground noise, nighttime activities and the number and types of operations per runway.  
General Aviation Airport Advisory Commissions 
Five of the six MAC general aviation airports have established community and industry advisory commissions: St. Paul Downtown, Flying Cloud, Airlake, Anoka-County Blaine and Lake Elmo. 
The commissions generally meet two to three times per year and bring MAC staff, airport tenants and airport neighbors together to discuss airport development, aircraft operations and noise concerns.