Setting our Sights on Sustainability

The Metropolitan Airports Commission (MAC) has a longstanding commitment to creating a sustainable future. The MAC furthered this commitment in 2020 by setting the following 2030 goals: 
Reduce Minneapolis-St. Paul International (MSP) Airport's greenhouse gas emissions by 80%. 
Reduce MSP Airport's water usage per passenger by 15%. 
Divert 75% of MSP Airport's waste away from landfills. 
Achieve a MAC employee engagement sustainability score of 85. 
In 2022, MAC staff and airport stakeholders worked toward reaching these goals through a variety of means.
Energy and CO2 Reduction  
Following a successful pilot in 2021, the MAC began optimizing indoor air temperatures to reduce energy usage at MSP Airport during different times of the day and throughout the year. The building automation system is now programmed to automatically promote sustainable and efficient facility management - a change that is anticipated to deliver 5% of the reduction needed to meet the MAC's emissions goal. 
To accelerate achieving its emissions reduction goal, in 2022 the MAC also invested in replacing old lighting units with energy-saving LED bulbs. Since 2014, the MAC has been updating lighting on roadways and other exterior areas with LEDs. The new LEDs are 40% more efficient than older bulbs. LED lighting also provides better light quality, which can have the bonus of enhancing people's airport experience. In 2023, the MAC will begin replacing MSP Airport's indoor terminal lights.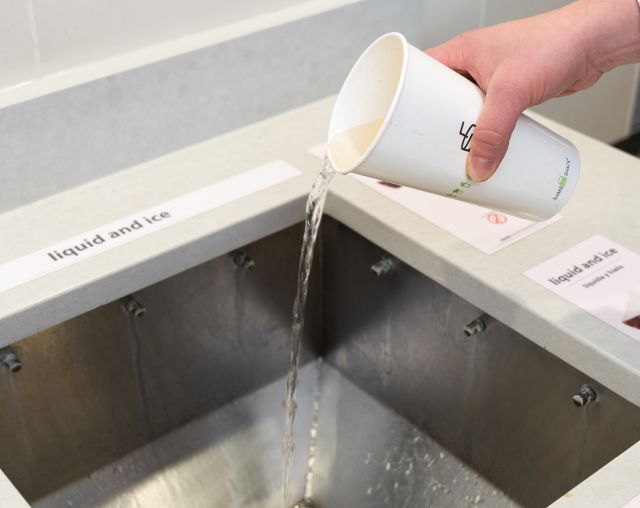 Waste Diversion 
From August to November, the MAC conducted a pilot project to test how compaction technology could reduce paper towel waste in select Terminal 1 restrooms. Through the successful pilot, MAC identified that installing this technology across all MSP restrooms could eliminate up to 10% of all airport waste. The MAC has also installed liquid diversion stations for passengers to use, eliminating heavy liquid waste from the trash in public areas. 
Our thanks go out to MSP's food and beverage concessionaires for their ongoing participation in the MAC's waste recycling program, which continues to earn national recognition in the airport industry while contributing to the organization's waste diversion goals.
Water Conservation 
In 2022, the MAC and MSP Airport stakeholders took steps to reduce water consumption, including these four initiatives: 
Installing faucet aerators in restrooms across the airport campus, which reduces water flow from 2.2 gallons per minute to 1 gallon or less per minute.  
Smart, sensor-based system that reduces irrigation water use by 25% or more. 
Completing a water use inventory that revealed 10% of the water used at MSP comes from vehicle washing. In response - to support the MAC's water conservation goal and replace aging systems - Hertz, Avis/Budget and Enterprise overhauled their quick turnaround car wash reuse systems. The new systems are expected to reduce water usage in car wash operations by up to 50%. 
Evaluating the MSP Airport Fire Department's non-emergency water use to identify conservation opportunities.
Climate Resilience Planning 
The MAC's Executive Sustainability Committee recently completed a climate resiliency planning process to ensure MSP Airport is prepared for and responding to climate changes, especially changes in temperature and precipitation patterns. The MAC will apply what it learned during this process when planning and designing future initiatives and infrastructure. The MAC's general aviation airports will engage in the same planning process in 2023.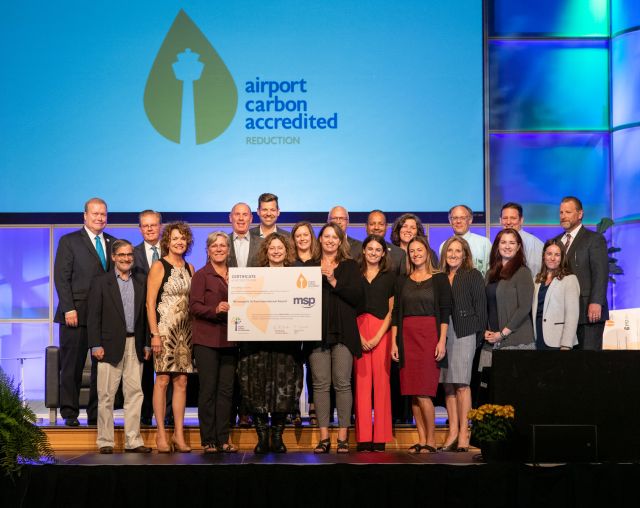 Airport Carbon Accreditation Certification 
MSP Airport was one of 41 airports recognized in September by the Airport Carbon Accreditation (ACA) organization for its ongoing commitment to managing and reducing its carbon dioxide emissions. Since 2017, MSP has been certified at "Level 2" by the ACA, meaning the airport has provided evidence of effective carbon management procedures.