General Aviation Airports
Over the past five years, the Metropolitan Airports Commission (MAC) has invested more than $50 million to provide a safe, efficient and modern general aviation airport system, including last year's opening of a new, realigned and extended runway at Lake Elmo Airport. The investments are paying off, spurring more private investment in infrastructure and services at the MAC's six general aviation airports.  
Tenants constructed 12 airport hangars across the MAC's general aviation airport system in 2022, including a 10,000-square-foot facility built by Lake Elmo Aero at Lake Elmo Airport and a 25,000-square-foot corporate aircraft facility built by Aloft Aviation at Airlake Airport that will open in 2023.   
While overall operations fell by 3% system-wide over 2021, three of the six airports experienced an increase in operations in 2022, supported in part by a continued rebound in corporate general aviation activity. The airport's flight training schools, charter operators, maintenance companies, fixed-base operators and avionics firms also report they are busier than ever. 
Through the MAC's strategic investments, the reliever airports are well-positioned for continued growth in support of the strong demand for general aviation services throughout the system. 
General Aviation Airport Operations 2022 vs 2021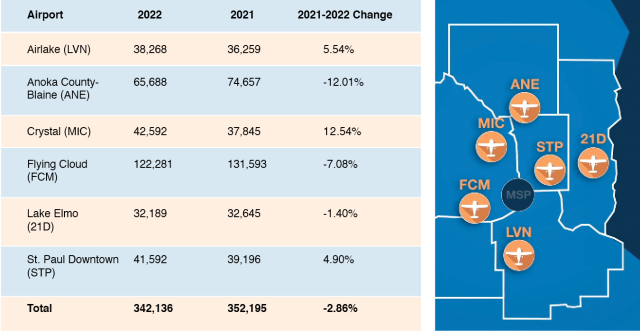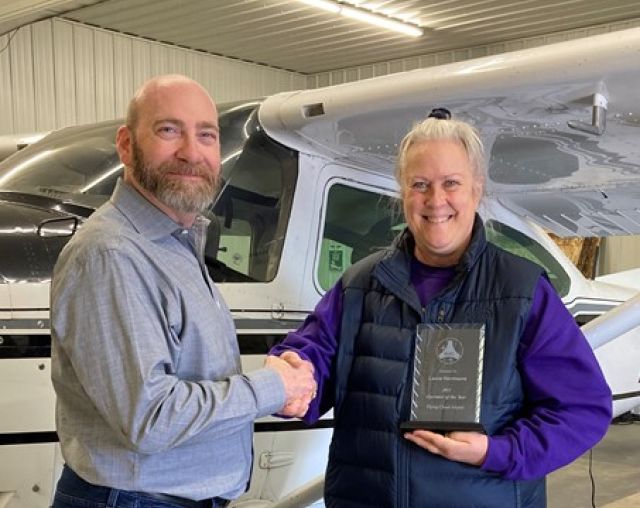 Tenant Profile: Laura Herrmann
General aviation pilots are often engrained in the communities from which they fly. Meet Laura Herrmann, who has been flying for more than 20 years after completing her pilot training at Flying Cloud Airport.   
She is the FAASTeam lead representative for the area and was named the 2022 National FAA Safety Team Representative. An active member of numerous aviation groups around the metropolitan area, Herrmann is also an adjunct faculty member in aviation at Minnesota State University - Mankato. And she was selected as the 2021 Flying Cloud Airport Aircraft Operator of the Year.   
Here's what Laura has to say about her airport community:  
"I appreciate the Flying Cloud community for its commitment to continuing education. Safety is very important to us here, which is why I volunteer to host, organize, moderate and find the presenters for our weekly safety webinars."  
Laura is also active in animal rescue flying, having welcomed one cat, two goats and more than 200 rescue dogs to her Cessna 182 Skylane.